Welcome to Price Ford Lincoln
Ford Blue Advantage: Confidence at Every Turn
Experience the benefits of Ford Blue Advantage! Each Ford Blue Advantage vehicle features a limited warranty, multi-point inspection, 24/7 roadside assistance, and FordPass™ Rewards Points.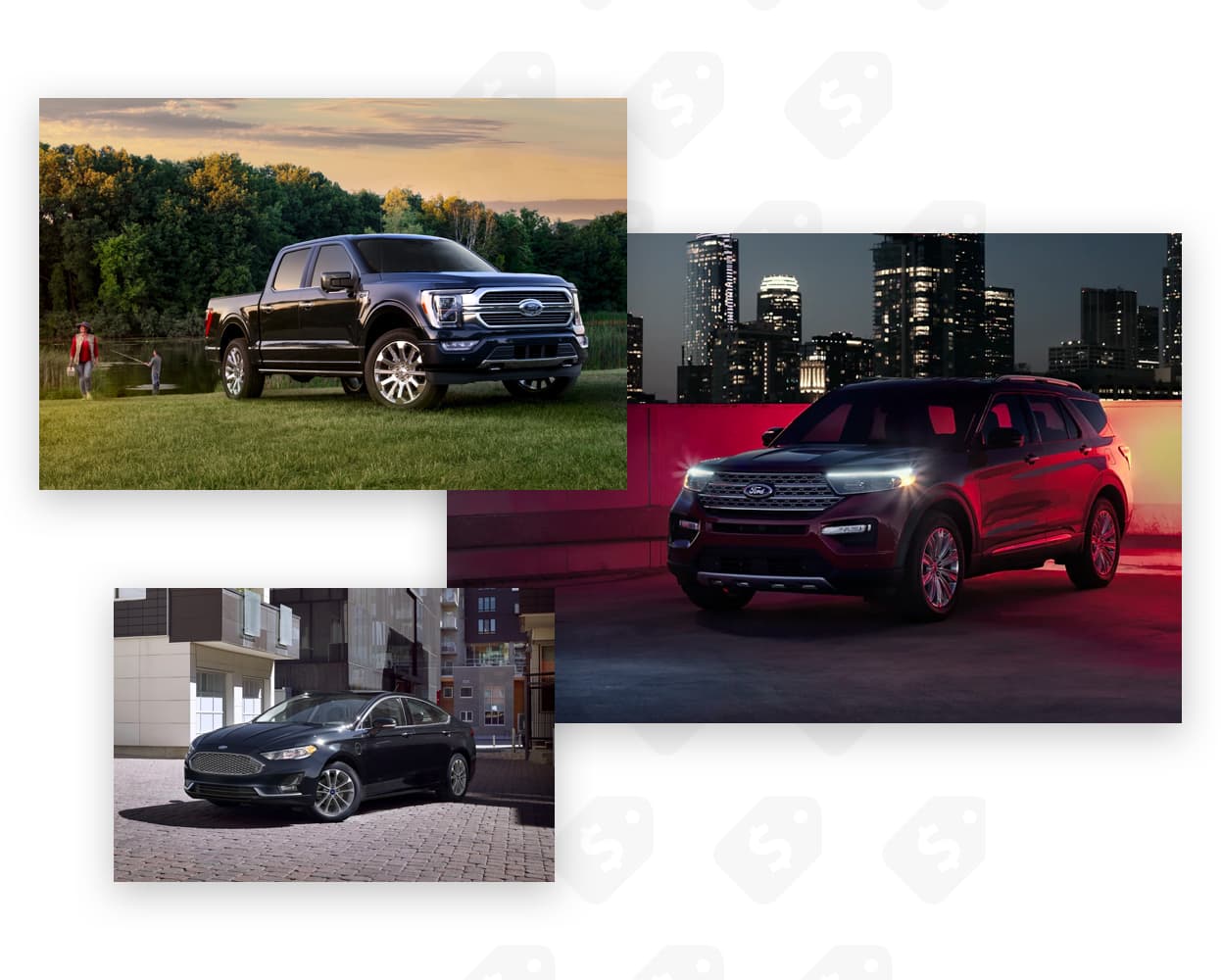 Take Advantage of This Month's Current Offers
Every month Ford releases incredible cash-back offers and special financing rates along with discounts featured in other special programs.
We're Here For You
Price Ford Lincoln always puts customers first!
Don't take our word for it: Read our reviews and see what everyone is saying.
We bought a 2016 Ford Focus Hatchback there a few years ago. I had no intention of buying a car the day I was there. Saw this Focus and it was exactley what we were looking for. Best part./..I didn't feel any pressure to buy it. I have gone there since for my oil changes. They really don't make appointments for the quick oil change but I call ahead and let them know I am coming from Port Townsend and they always get me in when I arrive. Robbie is great and will do the change himself when they are understaffed.
Used the "quick" service for an oil change and lube…in and out in one hour…without an appointment. Very efficient operation 👍
Mike and Tim were fantastic. They really went above and beyond for me. When it is time to buy again I'll definitely be back and I'll definitely be referring.
The service department at Price Ford got me right in for an oil change when I called. The team was extremely professional and friendly. They showed support for other service shops in the area that could help as well. I like to work with a good team player, and at Price Ford they are a team!! :)
Always get taken care of by the Quicklane Team and the entire service department. They constantly strive to take great care of all of their customers.
The service was probably not and friendly and my car was ready earlier than anticipated. It was for a recall warranty work.
Very easy process of buying my Explorer. Great staff.
Had a great experience at Price Ford buying a compact SUV. Preston helped us with with our purchase and made sure all of our questions were answered. We made the drive over from Seattle and he made sure the car was ready for us. He was very thorough and helpful. Tim in sales worked with us to get us a price point that worked for our budget. Dean in financing worked hard to get us a great financing rate. Just an amazing experience from start to finish. I felt respected and taken care of. We're excited to drive our new car! Would highly recommend this dealership if you're looking to get a car. Their customer service is top notch!
Well handled and in a timely fashion. Expecting to have to order but they actually had one in stock that met my needs.
Much appreciate that Robbi the Quick Lane manager went above and beyond to get my vehicle serviced and evaluated in a timely manner since I travel so far. His professionalism makes it easy to return to this dealership for service.
Took my vehicle to the QuickLane for an oil change and tire rotation - they took my car in right away and I didn't have to wait very long at all. Robbi at QuickLane was especially helpful and is always great to work with, along with the rest of the staff there!
Our windshield recall repair went sideways on a couple of occasions due to the replacement windshield being in short supply, then when received it had a large flaw and had to be replaced. This took time [several months] and rescheduling the coordination of the proper technicians to do the work also took time. In the end we are very pleased with the result, but also very happy that this is over!!!
Robbi the front manager at express desk is kind, thoughtful and always letting you know details if their running behind. Friendly and quiet waiting room set up nice. Coffee is offered. Robbi goes above and beyond to be thoughtful and prompt as much as staffing allows. Good experience.
Good work, good staff, but it's a guessing game on how long you will have to wait. They need to go back to appointments
While sitting in the lobby waiting they have a chainsaw manual for your reading pleasure. Love Port Angeles.
I've purchased 2 vehicles here, and I rarely get them serviced anywhere else. Price has an excellent Service Department management team, an efficient and friendly staff, and they treat everyone with respect and cheerfully provide service after purchase or even if you didn't buy the vehicle from this dealer. Some say service at a dealership is always pricier, but I've found that Ford mechanics ' thorough training on repair and inspection of Ford vehicles gives them an edge over competitor/garage. I trust their specialty experience and their easy access to genuine Ford parts give me peace of mind. So for me, It has as been worth any price premium I may have paid. . Besides, the times I've done price-comparison, this dealership's prices have been pretty close to the competitor's.
We were checked in without waiting; the recall inspection went quickly and we were out of there in less than an hour!!
Quick Lub Change Lane: Finished with 21 point inspection of fluids, suspension, including removing wheels and measuring disc brake pad wear, etc. with report attached
My 2022 Ford Maverick arrived today after my initial online order back on 8-30-21. So excited when Brooklyn notified me as she has been doing during this entire process. Price Ford honored Ford's MSRP with no surprises. Trade-in value for my vehicle also came in above my expectations as well. Great all around experience.
Tim and Abby worked quickly and very efficiently for my husband and I this last week to buy a new to us F-350! Thank you both so much! We highly recommend Price Ford!
The technician did a first class job. I will not hesitate to use them any tome I am in Port Angeles
In and out quick, this place is my go to as Port Orchard Ford (where I bought my truck) is a clown show.
Robbie was great at the desk getting us checked in and out fast with a 200 point inspection. He had great knowledge and professionalism about him and advised us what would need to be fixed and where we could do that at. Not to mention the good coffee and clean appearance of the whole shop and even bathrooms. Highly recommend
Got us approved on the truck we wanted and didn't try and sell us junk will be back for next purchase

Welcome to Price Ford Lincoln
Price Ford Lincoln is your source for new & used Ford cars, trucks, SUV, parts, service and more in the Port Angeles area. Our goal is to provide the best possible service to our customers and make sure your car buying experience is second to none. We are conveniently located at 3311 East Highway 101, Port Angeles WA, 98362-8751.
Our commitment to our customers continues well beyond the date of purchase. We also have a professional team of Ford technicians on hand with the skills and equipment to handle all manner of maintenance and repairs, as well as a full stock of authentic parts.
Contact Us
Price Ford Lincoln
3311 East Highway 101
Port Angeles, WA 98362
Sales:
888-928-4725
Service:
888-854-4597
Parts:
888-765-4470
Directions