Welcome to Price Ford Lincoln
Ford Blue Advantage: Confidence at Every Turn
Experience the benefits of Ford Blue Advantage! Each Ford Blue Advantage vehicle features a limited warranty, multi-point inspection, 24/7 roadside assistance, and FordPass™ Rewards Points.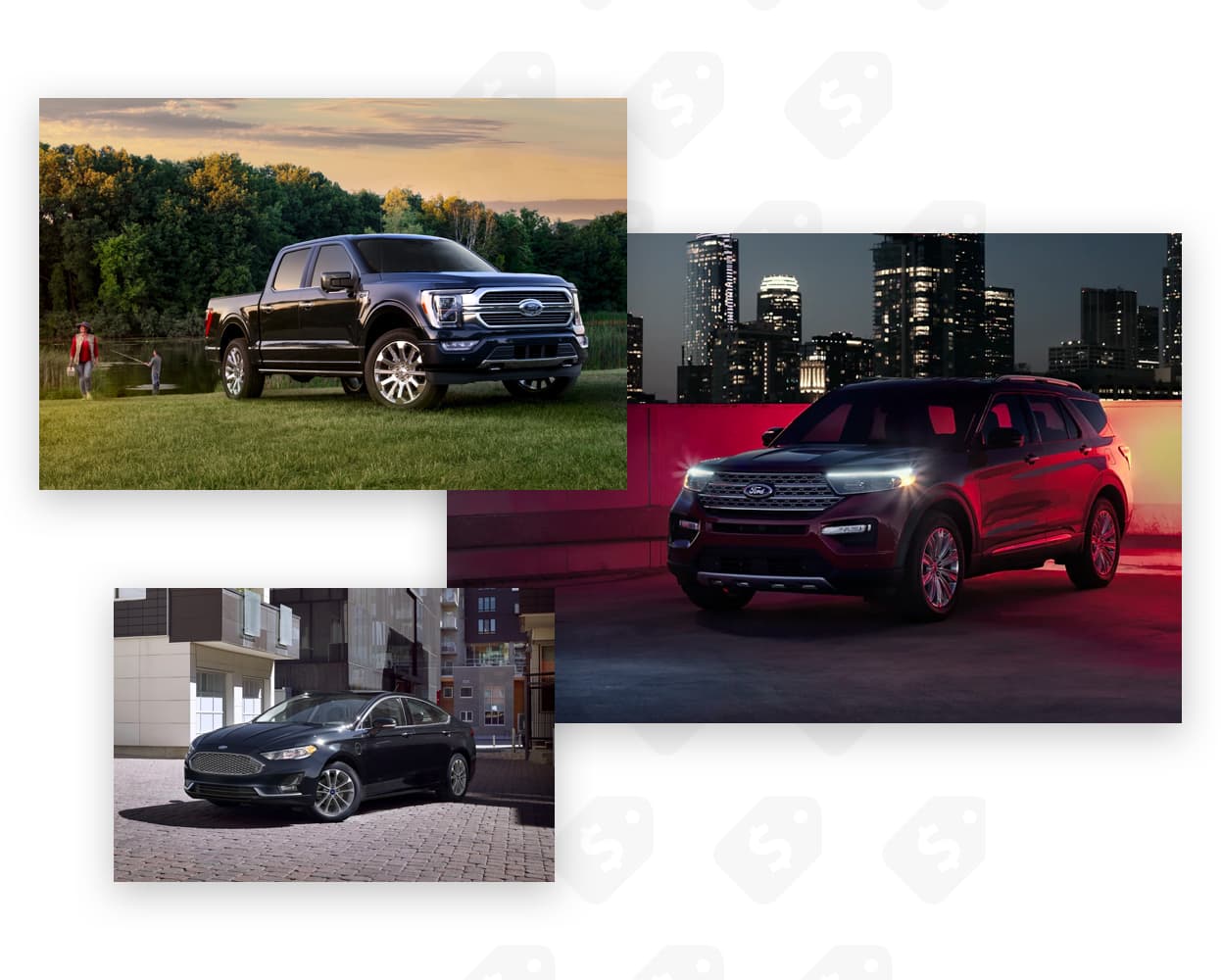 Take Advantage of This Month's Current Offers
Every month Ford releases incredible cash-back offers and special financing rates along with discounts featured in other special programs.
We're Here For You
Price Ford Lincoln always puts customers first!
Don't take our word for it: Read our reviews and see what everyone is saying.
Always respectful and responsive!
Excellent experience. Thank you all at Price Ford for the friendly and reliable service.
I had trouble with my instrument cluster on my Ford Expedition. Service Dept. ordered a new one for me but found out I didn't need. They very quickly arranged to send the instrument cluster back & issued a credit quickly. They also saved me money by fixing my FOB which had quit working by adding a remote to the FOB.
Friendly staff and very helpful.
First off, it was cold so when you walk in the fireplace was going so that was great. They listened to me go through the issues and then recalled everything to go over what may be done. Also, they took care of reaching out to my warranty company for coverages. There were a few recall items taken care of too! Felt like the most important customer and I would go back there. 2014 Ford F250 Diesel. Servixe shop provides a warranty for their work.
Very professional. Sarah was on the ball all of the time with updates on parts availability and shuttle scheduling . Not to mention road conditions. It was a pleasant experience.
Very friendly customer service. Got an oil change using the Quick Lube. Only took about an hour and they were short handed. Didn't mind waiting because they had a nice waiting area next to the fireplace.
Garret made an unfortunate incident come around to a great expectation. After being given bad news by a different dealership, Garrett saved the day and my job with a C Max. It is a much better vehicle than I thought I could afford. Would highly recommend.
These guys rock. Abigail was amazing and treated myself and my daughter like we were the only people that mattered. Very professional but made us feel very at ease and to top it off extremely informative. All the options were explained fully, so much so I bought my daughter her car as well. Thank you everyone we enjoyed our visit and look forward to continued business in our future.
The best buying power experience. I love Fords and will always buy Ford Price in Port Angeles. The team there is sensitive to all of your needs. Safe Driving is my obsession, thank you Price Ford.
The people do fast good work
Brooklyn Hostetler was my sale consultant, and was a real pleasure to work with. Purchased a 2014 Lincoln MKS. After exactly 1 week the following Friday after I first picked up my vehicle, a check engine light has already illuminated. Took it to the dealer immediately, and had the code read. Was near the end of the day so I understand there wasn't a lot of people to help me, but one of the service consultants did come out and scan the vehicle for me. Code was apparently for a O2 sensor. Was not offered a loaner, but to be fair I did forget to ask about one, and was told to just drive the vehicle and bring it back for an appointment. Service consultant I spoke with was adamant it was just a sensor. I've had this same situation happen before with a O2 sensor code and it ended up being a bad turbo charger, so we will see. Am very weary of dealerships, so I will update this review after this issues been dealt with. UPDATE: Dealership replaced O2 sensor and found a vacuum line off of the waste gate for the turbo. No more surging on acceleration, and no more check engine light. Was delt with same day as my appointment within hours, and had the courtesy of delivering my vehicle back to me at work down the street. Would recommend this dealer to a friend. All the young ladies who helped me in service and sales went above and beyond.
Dave, Sarah and Rob of the service department at Price Ford in Port Angeles have continuously given me top shelf customer service. I had a unique service needed on my truck…. These 3 people have made every experience pleasurable. Thanks for getting me back on the road you guys…
Excellent experience from start to finish, highly recommended! Mark kept me informed on the status of my Mach-E and presented easy to understand finance options. Brooklyn delivered the vehicle and reviewed all of the necessary features.
I loved my buying experience at Price Lincoln. Every person I came in contact with ~ was AWESOME! EVERYONE!!!! Thankful for a no stress ~ no pressure buying experience. Very kind thoughtful caring and informative staff. Starting with my salesman first. Thank you one and all. Zoe
A++ experience throughout sales and delivery.
Brooklyn hooked it up made the whole process easy and fun!
Abigail deserves a huge Banner for Excellent customer service. When I first started looking for a vehicle she was immediately responding to my emails and questions. And kept me upto date as the process took place. Once the vehicle was found that meet my requirements, she was quick to set up a time for a test drive and even reminded me the during the day, just to make sure. Once in the showroom she was professional and warmly greeted me, the conversation was seemless and it was more enjoyable then a test drive with someone just sitting next to you. I made me feel like I was going for a drive with a friend.
NEW DIESEL F350 for us,time for filter changes and getting everything fushed for the season. Service Sara was great,showed me all the filters as they came out, and she was surprised to see the pre air filter. Everything was done in a timely fashion and the service tech went over everything with us. WE will be back. FYI I did not break my foot only bad sprain,boot for 3weeks,if you could let Sara know. Thank you, Jackie
Bought my truck 3 years ago from price Ford I have it always serviced there… amazing every time …. recently had my fuel pump go out and had it towed there they got it replaced fast and always kept me up to date along the way highly recommend the service and sales 🔥
The salesmen mike and dean are both very good dudes! Helped me out a lot and easy to talk with! Thanks guys!!
Dave in service is awesome! No one better!
Love this dealership.The folks are so nice and helpful they are priced right i
Nice atmosphere and treated with curtisosy.

Welcome to Price Ford Lincoln
Price Ford Lincoln is your source for new & used Ford cars, trucks, SUV, parts, service and more in the Port Angeles area. Our goal is to provide the best possible service to our customers and make sure your car buying experience is second to none. We are conveniently located at 3311 East Highway 101, Port Angeles WA, 98362-8751.
Our commitment to our customers continues well beyond the date of purchase. We also have a professional team of Ford technicians on hand with the skills and equipment to handle all manner of maintenance and repairs, as well as a full stock of authentic parts.
Contact Us
Price Ford Lincoln
3311 East Highway 101
Port Angeles, WA 98362
Sales:
888-928-4725
Service:
888-854-4597
Parts:
888-765-4470
Directions