Welcome to Price Ford Lincoln
Ford Blue Advantage: Confidence at Every Turn
Experience the benefits of Ford Blue Advantage! Each Ford Blue Advantage vehicle features a limited warranty, multi-point inspection, 24/7 roadside assistance, and FordPass™ Rewards Points.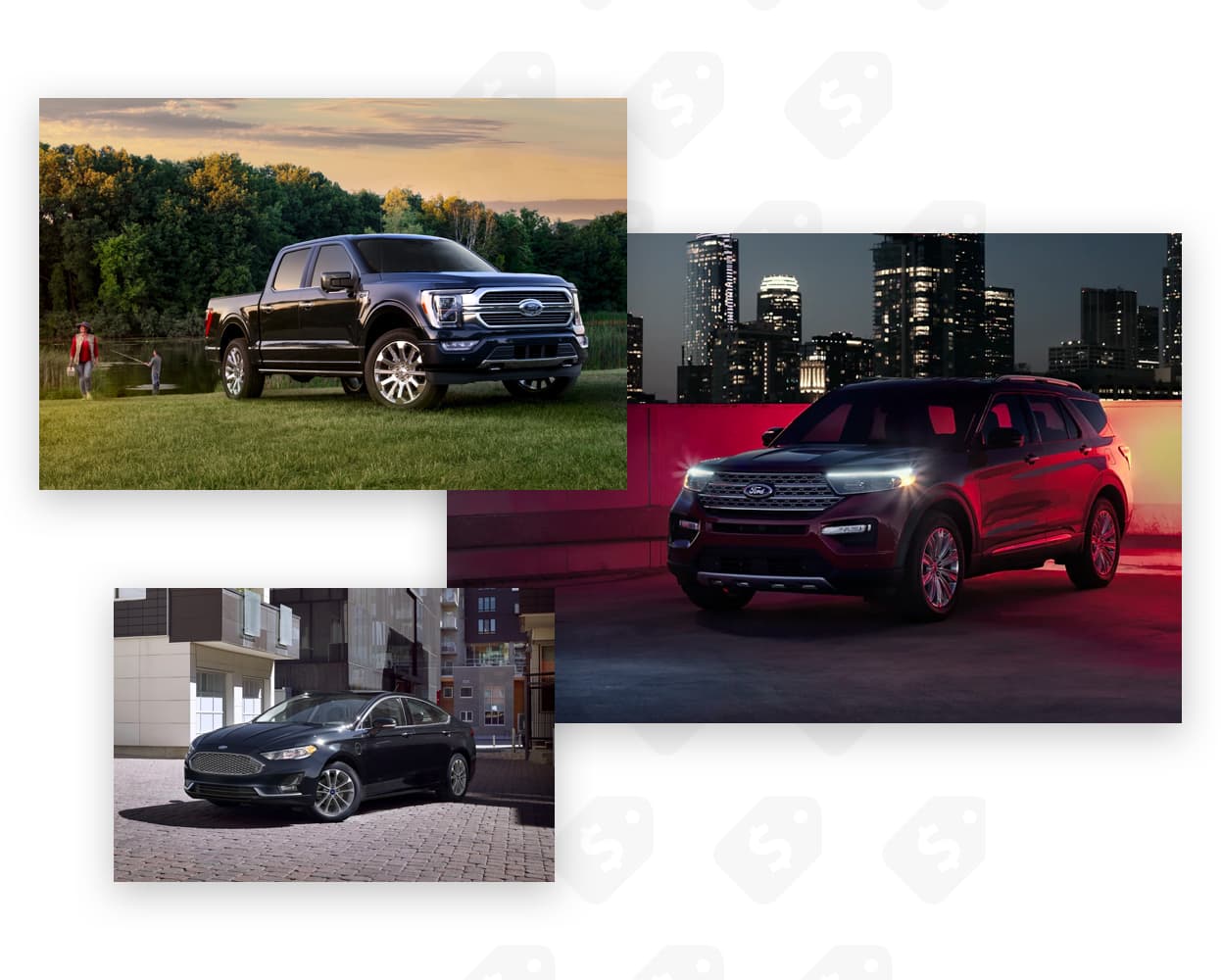 Take Advantage of This Month's Current Offers
Every month Ford releases incredible cash-back offers and special financing rates along with discounts featured in other special programs.
We're Here For You
Price Ford Lincoln always puts customers first!
Don't take our word for it: Read our reviews and see what everyone is saying.
Excellent Salesman in Preston. He had the car I was interested in pulled around and ready first thing in the morning and made the buying process as quick and painless as possible. The two hour drive to come out and buy a car from Price Ford was well worth it. I highly recommend anyone interested in purchasing a car check them out .
Thanks to Sarah,Dave, and Robbie for always helping me everytime I have questions and need to fix my cars this 3 awesome people really helped me a lot and always fixed my car needs I 100% excellent service give u 10⭐️⭐️⭐️⭐️⭐️⭐️⭐️
Fantastic customer service. Got me in the day of my appointment and took care of all the details of current problem and had a detailed list of past work done. Very professional, courteous and knew how to take care of things unlike another dealership who dropped the ball.
Shopping for a hard-to-find hybrid Maverick, we were delighted to work with the team at Price Ford, and specifically with their top salesperson Abigail Walker, who eased us through the trade-in and purchase process with clarity and friendly professionalism. We were in good hands and are very happy with our new vehicle.
My battery died in my MKX. AAA told me it was the alternator; a mechanic told me it was the software-electrical system. I brought it into Robbie on a Friday afternoon. He worked me in, did diagnostic testing and assured me it was just the battery. They had the battery in stock, it was changed and I didn't have to worry about it over the weekend. Robbie is a great service manager and the dealership and service department are top notch. Highly recommended.
Price Ford service always meets my needs and does a thorough job. Under Rob and with Dave and the crew, they also stand by the services they provide on the rare occasion there is a problem. That means a lot!
Robbie always provides excellent customer service! Never been disappointed with anyone at Price Ford. Will highly recommend to others. Best place in town to service your vehicle.
The personal service is incredible. I love working with Abby.
Awesome, quick friendly service. A+++
If you're looking for an expert on pickup trucks AND cheeseburgers, look no further. His name is Mike Warren. He is a salesman at Price Ford. I was in the market for both of those things last Saturday. He showed me a beautiful pickup truck, spent time going through all of the features, answered all my questions and got me out on the road for a test drive. Then he provided an incredible recommendation for a cheeseburger. I'm not going to tell you what it is. Go see Mike. Price Ford was full of good people. I couldn't be happier with my new truck, or the experience at the dealership. Normally when I think about car dealers, I think about sleazy sales people, high pressure managers, and people trying to sell you things you don't need. On on top of all that, a lot of them are still charging markups. Price Ford was the opposite of that. Genuinely kind people and an enjoyable sales experience. If you're trying to figure out where you want to buy a Ford vehicle from, you don't want to pay a markup, you enjoy being treated like a human being AND you want a cheeseburger recommendation, this is your place.
Purchase was completed as agreed to The staff was was very accommodating, especially Abigail Walker, who was particularly friendly and helpful
Excellent Company to work with, Professional, Friendly and Honest. Can rely on all information they give you, Service Manager and Reps are excellent.
Always positive experience! Great quality workmanship and professionalism. Upfront detailed description of work & pricing before service begins. Highly recommended!
Purchased a 23' Ford Maverick on Saturday. Wonderful experience with all those involved. Specifically, Mike in sales and Dean in finance. This was an out-of-state sale and the quicker the process the better - and they delivered! Thank you both! Will do business again I'm sure of it.
Purchased several cars from Price and always treated fairly and not rushed. The Service Department is always helpful and Robbie is a rockstar at meeting all service needs!
Fast, friendly professional service, competitive prices on the parts I needed.
Quick and courteous. We received an email that the chips we in for our car and within the week, part was ordered, received and installed!! Thank you Price Ford!!
Robbi did a fantastic job of taking care of my vehicle. Went in with no appointment and they were able to take care of me right away. Robbi kept me informed the whole time and made sure my questions were answered. First rate.
My experience with Price Ford and Abigail was terrific.
I called the night before to see about an oil change for my Kia. The lady on the phone answered all my questions and helped me get an accurate idea of how much I could expect to spend. When I got there the next day the men taking my info and car were very polite. As they were finishing up a gentleman came and went over the minor things they found and possible solutions and didn't seem to be overly "upselling" any services, which I appreciate! When it was all done another associate went over the final findings and as it happened the lady I spoke with on the phone the day prior took payment and remembered me. The total was as expected. And I went on with my day. Service was great with friendly people. Prices as advertised. Absolutely nothing to complain about!
Low stress car purchase! Mark and Abigail were wonderful and so helpful!
Was helped by the wonderful miss Abigail Walker. She found me a car in my budget and EXACTLY what I was looking for! This is my second purchase from price ford. Such an easy process made by her and the company.
Dave did a great job Very personable and professional
As quick as could be for what I asked for. Clean and comfortable waiting area.
Amazing service. Mark was a huge help as was Dean. I highly recommend both

Welcome to Price Ford Lincoln
Price Ford Lincoln is your source for new & used Ford cars, trucks, SUV, parts, service and more in the Port Angeles area. Our goal is to provide the best possible service to our customers and make sure your car buying experience is second to none. We are conveniently located at 3311 East Highway 101, Port Angeles WA, 98362-8751.
Our commitment to our customers continues well beyond the date of purchase. We also have a professional team of Ford technicians on hand with the skills and equipment to handle all manner of maintenance and repairs, as well as a full stock of authentic parts.
Contact Us
Price Ford Lincoln
3311 East Highway 101
Port Angeles, WA 98362
Sales:
888-928-4725
Service:
888-854-4597
Parts:
888-765-4470
Directions