Welcome to Price Ford Lincoln
Ford Blue Advantage: Confidence at Every Turn
Experience the benefits of Ford Blue Advantage! Each Ford Blue Advantage vehicle features a limited warranty, multi-point inspection, 24/7 roadside assistance, and FordPass™ Rewards Points.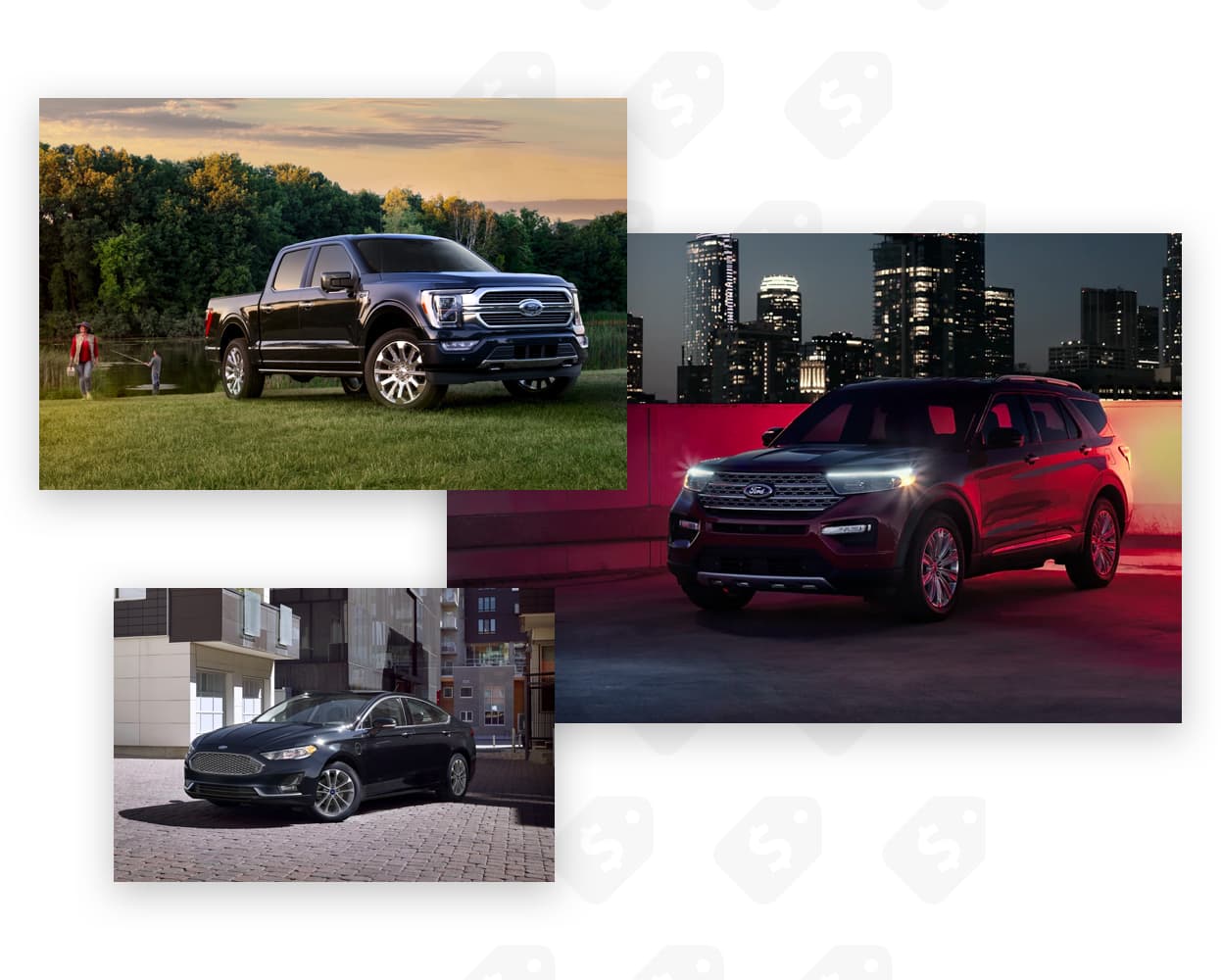 Take Advantage of This Month's Current Offers
Every month Ford releases incredible cash-back offers and special financing rates along with discounts featured in other special programs.
We're Here For You
Price Ford Lincoln always puts customers first!
Don't take our word for it: Read our reviews and see what everyone is saying.
Great service. Welcoming and enjoyable enviroment. Robbie and Ryan were awesome!
I needed a Ford recall bushing replaced in my car. Friendly and quick service to get the job done! Thank you so very much!!!
A great service department. I have had nothing but straightforward communication and excellent work.
Mark O. and Zack you two are great salesmen! I have purchased vehicles from Ford for years, since Mark was the big Office Manager (back in the day), before Mr. Dean sat in the Office. I love my new Explorer!! Thanks and I will let Joey Lawrence drive... once-in-while. Dawn
Excellent service. I got right in, the service advisor, Robbie B., answered all my questions and kept me informed throughout the whole process. Highly recommend
Great service, work was done faster than I expected. Mostly warranty/recall work, the only thing I paid for was some service since they had my car anyway - very reasonably priced (I am not sure how they manage to stay in business level of reasonable).
Price Ford performed a recall on our Maverick. Repair took time, as it was the first recall they had done on a Maverick. Stellar customer service throughout. Best dealership ever.
Very fast and professional dealings with sales person. Easiest car purchase by far.
Quick and responsive service. Everyone was very friendly and communicated efficiently.
David was super he was so helpful and Made sure I understood everything they did.
Pleasant, quick service, appears competent and caring about additional safety that needs to be done. Low pressure approach
The staff was very friendly and helpful. They explained things in an easy to understand manner and efficiently worked on my vehicle. I was very satisfied with my experience.
Dave, the Service guy at the desk, has always been most helpful and thorough. I was pleased to see a new person there, Sarah, who seems adept in her knowledge of what needs done as well, who should ease some of Dave's workload.
Ms. Abigail Walker was fantastic to work with on deciding which vehicle was best for me. Perfect blend of professionalism and warm friendliness. Thank you Abby!
Zack the salesman is GREAT! Price very fair
I've been bringing my vehicle to Ford since 2004 when I bought it brand new and currently I've been bringing it to price Ford since 2016 when I moved to the area...and I've had many things done to my vehicle in that time, like wheel bearings, brakes and many many oil changes, and the work is always top notch. My experience at Price Ford has always been very pleasant. Robbi at Quick Lane always greets you with a smile and if you're a familiar face he probably knows your name! I would definitely recommend Quick Lane at Price Ford.
I found Price Ford Service to be prompt and knowledgeable. My appointment was pleasant and my expectations were exceeded
Very professional and friendly employees. Did a great job fixing my car. And as it was a recall, it was priced just right. Thank you.
Very fast service for a recall on my car. Robbie explained to me the problem and showed me the defective part. I'm very pleased. Thank you.
Bought the new Lightening, everything was set up and ready for me as far as paperwork, truck delivered impeccably clean, finance manager was top notch, tall red headed guy was exceptional for sure. Will be back often!
I love my Ford family! Price Ford in Port Angeles always take good care of me and my Bronco Sport! They're even puppy friendly. Absolutely love doing my services there. Good prices and friendly employees from front office to sales reps to service desk and the service crews. Thank you Price Ford!
All around great experience. Thank you!!!
This was my first time here and I will definitely be going back when my car needs serviced again. I walked in, spoke with Robbie, and told him what was wrong. He got some information, and my car was ready an hour later. Robbie was very friendly and professional. The waiting area was clean and comfortable. The ETA I was given was an hour or less so they nailed it.
I had my oil changed and my tires rotated on 2/6/23 in Port Angeles. When I arrived it was obvious that they were very short handed. A man named Robbie checked me in and explained that there were 3 mechanics out that day and could I please be understanding. After I had been waiting for some time, Robbie suddenly disappeared. He reappeared a short time later and told me that my car was ready. It seems that he felt bad about my waiting and so he went out into the shop and changed my oil and rotated my tires himself! Honesty I was, and am, flabbergasted that this man would go out of his to help me. What an employee you have in this kind man!!
Always a pleasure to work with.

Welcome to Price Ford Lincoln
Price Ford Lincoln is your source for new & used Ford cars, trucks, SUV, parts, service and more in the Port Angeles area. Our goal is to provide the best possible service to our customers and make sure your car buying experience is second to none. We are conveniently located at 3311 East Highway 101, Port Angeles WA, 98362-8751.
Our commitment to our customers continues well beyond the date of purchase. We also have a professional team of Ford technicians on hand with the skills and equipment to handle all manner of maintenance and repairs, as well as a full stock of authentic parts.
Contact Us
Price Ford Lincoln
3311 East Highway 101
Port Angeles, WA 98362
Sales:
888-928-4725
Service:
888-854-4597
Parts:
888-765-4470
Directions